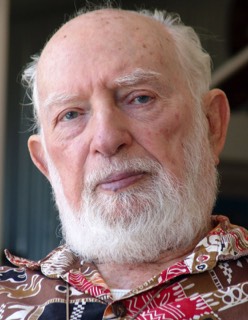 Fred Fox was honored at age 97 with the Punto Award at the 2011 International Horn Symposium in San Francisco. At the symposium, Fred presented an inspiring early morning sessions on playing accurately by applying the "hanging lip" or "sure shot" principle. He enlivened a panel discussion with his Hollywood colleagues Jim Decker, George Hyde, Alan Robinson, and Gene Sherry. His book Essentials of Brass Playing has been a bible for not only horn players but other brass players as well since its publication in 1974.
Fred was born in 1914 in Brooklyn NY and studied violin before he took up horn. He graduated from Juilliard and studied with Robert Schulze, Joseph Franzi, and Bruno Jaenicke. He was first horn in the National Symphony (1931-32), Minneapolis (1934-37), and Los Angeles (1944-46, following Alfred Brain), and then solo horn with the Paramount and RKO studios. He also played with the Chautauqua Symphony (1934) and toured with Xavier Cugat (1954), Stan Kenton (1956), and the Roger Wagner Chorale (1965).
One time when Fred was first horn in the Minneapolis orchestra and Ormandy was the conductor in Tchaikovsky's 5th, the dress rehearsal went poorly and Fred was called to the office. The concert was terrific and all the orchestra wondered what Ormandy had said to him. Ormandy told them, "I simply said he was good and not to worry."
Fred has taught at the University of Southern California, Music Academy of the West (Santa Barbara), Pepperdine College, and California State University in Los Angeles and Northridge. His students include Howard Hillyer, Henry Sigismonti, Hyman Markowitz, Richard Linenhahn, Daniel Katzen, and Jim Thatcher. Since retiring from playing in 1969, Fred and his wife have traveled extensively. Fred has continued teaching part-time because he enjoys it, but although he practices, he "found life more interesting not worrying about jobs." An early experience affected his outlook. At a lesson in 1930 with Bruno Jaenicke told him, "Today we had a new conductor in the Philharmonic, and he told me how to phrase the Tchaikovsky 5th horn solo. He was wrong. I would have stood up and resigned from the orchestra--I have enough money--but would would I do? Sit by the fireplace and become and old man?" Fred determined that he would "leave horn playing before it left me."
Fred has contributed articles to The Horn Call: "The Key to High Notes on the Horn" (February 1971); "Playing a Simple Crescendo--Diminuendo on Middle 'G'" (May 1971); "A 'Sound' Formula for the Hand Position in the Bell" (April 1979); "'Bull's Eye'" (April 1981); "Decreasing 'Clams,' Increasing Virtuosity" (May 1998); and "1938 New York Philharmonic Horn Section" (February 2009). In addition to Essentials of Brass Playing, he has published a book of poetry: Kaleidoscope: The Many Facets of an Octogenarian, Everett Press, 1998.
In his now "old age," Fred says a prayer each night! He looks up and says, "If anyone is listening, thank you for another nice day!
---
Naming of the Fred Fox Graduate Wind Quintet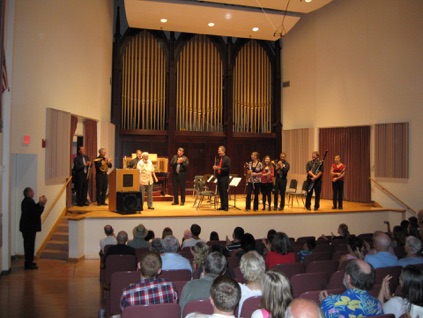 The Fred Fox Graduate Wind Quintet, formerly known as the Arizona Graduate Winds, was renamed in August 2012 in honor of a generous donation on behalf of renowned horn player Fred Fox and the UA School of Music.
Fred Fox receives applause after the "A Salute to Fred Fox"
chamber music concert in Holsclaw Hall on August 23, 2012.